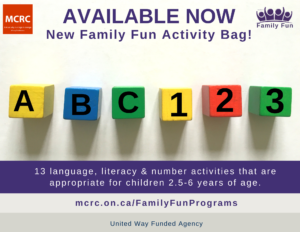 MCRC's Family Fun "ABC's and 123's" Activity Bags will include 13 creative and engaging activities for children and families to enjoy together. Each bag will contain supplies and instructions for you and your family to share in the activities together.
This activity bag will include language, literacy and number activities and crafts that are appropriate for children 2.5-6 years of age, however, are developed to engage the whole family.
Each bag is customized for the number of children in your family and will be ready for curbside pickup on August 18th, 2021.
Fill out the form below to place your order!