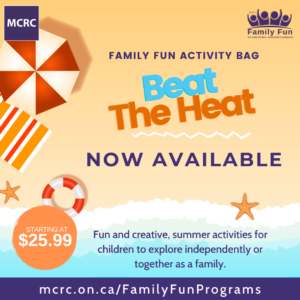 Welcome this summer with our new Beat the Heat Activity Bags!
Family Fun Activity Bags offer you and your family all the fun and none of the planning as they are filled with fun and creative activities for children to explore independently or together as a family. Each bag will contain supplies and instructions for quick and easy set up to enjoy in no time.
This summer activity bag will engage your child in fun indoor and outdoor activities that include fine motor crafts, gross motor games and much more. Activities are appropriate for children 2.5-6 years of age and are developed to engage the whole family.
Each bag is customized for the number of children in your family and will be ready for pick-up on Thursday, June 30, 2022.
Bag for families with 1 child - $25.99
Bag for families with 2 children - $32.99
Bag for families with 3 children - $39.99
Fill out the form below to purchase your Family Fun Beat the Heat Activity Bag!