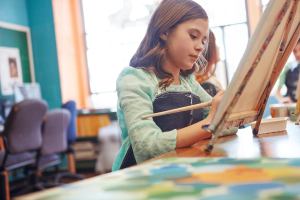 Expression in Art with Cayla Townes
Express yourself through art and art experiences! Join ACT in a one hour session using art materials and dialogue. This workshop fosters engagement, creative reflection, self-expression, and mindfulness. Participants will have the opportunity to explore, learn and collaborate with one another using art materials like charcoal, pastel, bleeding tissue paper, and fineliners to engage in alternate ways of sharing their thoughts, feelings and ideas in a friendly and social setting. This session is only $35 and includes all materials.
Cayla Townes is a Registered Psychotherapist (Qualifying) with the CRPO. She has worked with adults, children, and families in a variety of settings and also provides psycho-educational groups about emotional literacy and regulation, and issues related to grief and aging. She enjoys providing an environment where people can learn more about themselves and how they relate to others.
Upcoming Sessions
2 Sessions Available (ages 9-13)

 

Up to 12 Participants and 1 Registered Therapist and 1 Artist in each session

 
Date and Time:

 Tuesday, October 24, 2023

 -

 5:30 pm - 6:30 pm

 

Cost: 

$35 (includes supplies)

 

Location:

 Birch Room 410 Bronte Street South, Milton

 
Date and Time:

 Tuesday, November 28, 2023

 -

 5:30 pm - 6:30 pm

 

Cost: 

$35 (includes supplies)

 

Location:

 Birch Room 410 Bronte Street South, Milton