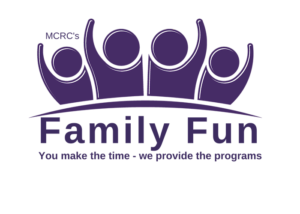 Join our Facebook Group for up-to-date program and event information or check back frequently for program updates.
---
Programs for Infants and Toddlers:
Baby Explorers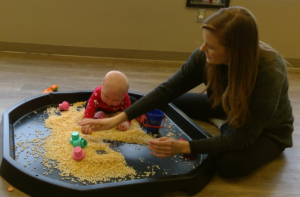 Age: 6-13 Months
Details: Mondays 2:00-3:00 PM
Starting Date: July 4th (4-week program) & August 8th (4-week program)
Cost: $60
Is your baby curious, eager to explore and enjoys getting messy? Come and discover a sensory based program where children discover through an assortment of materials, textures, and activities that will stimulate their senses through exciting experiences. In this developmentally appropriate small class babies will not only have fun but will build on their development.
Busy Feet, Busy Fingers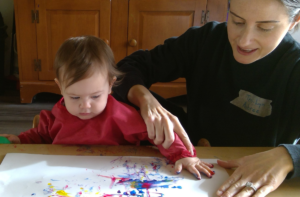 Age: 7-13 Months
Details: Thursdays 1:30-2:45 PM
Starting Date: July 7th (4-week program) & August 4th (4-week program)
Cost: $65
This interactive program gives babies time and space to explore a variety of sensory experiences that are age appropriate and provide opportunities for babies to explore all their senses. In this program babies and parents will have opportunities to explore art, music, and sensory activities that will further brain development, language, and independence. The Registered Early Childhood Educator provides the right combination of play-based experience, expertise, and knowledge to make this one of our most popular programs! This is a small, private class and each family leaves with a keepsake of your babies' first finger painting.
Rock A Bye Babies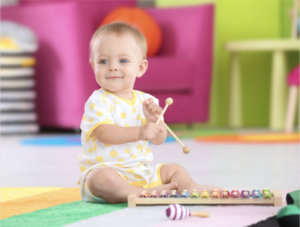 Age: 4-12 Months
Details: Tuesdays 2:30-3:30 PM
Starting Date: July 5th (4-week program) & August 2nd (4-week program)
Cost: $50
It is never too early to start making music! Rock a Bye Babies introduces a variety of different music genres, playful musical activities using a variety of age-appropriate musical instruments, creative movement, dancing, songs, and rhymes. In this one-hour interactive class your baby will develop a sense of rhythm and beat through different musical experiences, strengthen their listening skills and encourage adult and child bonding through playful interactions.
Messing Around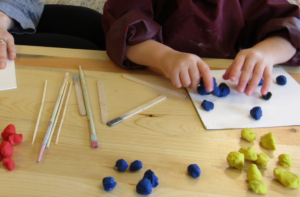 Age: 15-24 Months
Details: Wednesdays 9:30-11:00 AM
Starting Date: July 6th (4-week program) & August 4th (4-week program)
Cost: $65
Come join us and engage your toddler in creative exploration, and sensory experiences in our play-based learning environment. You will explore materials, textures, music, and activities that promote exploration. It will be weeks of exciting learning, experimentation, getting messy and meeting new friends in this small private class.
---
Programs for Preschool Age Children:
Rhythm and Rainbows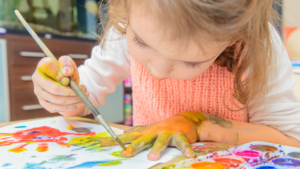 Age: 1 - 2.5 Years
Details: Wednesdays 2:45-4:15 PM
Starting Date: July 6th (4-week program) & August 3rd (4-week program)
Cost: $65
Let's explore the world of art! This program introduces your child to a variety of different painting techniques, art mediums (such as clay, collage, pastel), and more. All materials used in the program are safe, nontoxic and age appropriate. Adding to the art experience children will explore music through play props, singing and dance. You and your child will be inspired by the "arts" all while creating a beautiful keepsake of your quality time spent together.
Cooking up a Story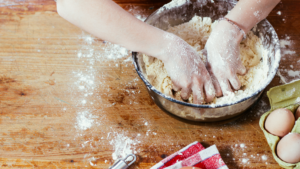 Age: 24 - 48 Months
Details: Fridays 9:30-11:15 AM
Starting Date: July 8th (4-week program) & August 5th (4-week program)
Cost: $80
Join us for weekly theme stories complemented by preparing an age-appropriate recipe. Together we will adventure into stories, activities, recipe preparation and cooking a healthy snack to enjoy together. Each family will leave with a recipe book of all the delicious recipes prepared over the 4-week program.
Explore and Discover
Age: 2 - 4.5 Years
Details: Monday 9:30-11:00 AM
Starting Date: July 4th (4-week program) & August 8th (4-week program)
Cost: $65
Are you and your child curious and want to learn and discover new things together? Preschoolers are always asking "why" and wanting to know more about the world around them. Explore and Discover nurtures this natural curiosity through a variety of play-based activities in and outside of the classroom. Come, explore, and make connections in our child-centered environment that provides children with the ability to freely express themselves and take part in activities that inspire them.
Kids Konnection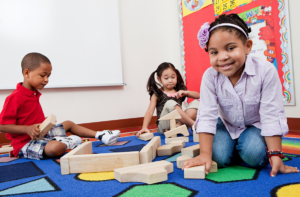 Age: 3-5 years
Details: Tuesdays 9:30-11:30 AM
Thursdays 9:30-11:30 AM
Starting Date: July 5th and 7th (4-week program) & August 2nd and 4th (4-week program)
Cost: $100
Children will participate in a variety of activities, such as learning songs and stories, art, sensory play, and active play, while socializing with other children. Children will also be encouraged to practice basic classroom routines that will help prepare them for kindergarten. The Registered ECE engages with the children, taking into consideration individual personalities, learning styles and interests of each child. This program also offers the child an opportunity to practice emotional self-regulation as they transition into being left on their own without the parent/caregiver.
*Children attend without a parent
Plug and Play-
Are you interested in a quiet office space to work while your child is attending Kids Konnection? Add the Plug and Play package ($25.00) to your child's registration and you will have a desk reserved for you every morning your child attends Kids Konnection. Wi-Fi and use of a kitchenette included.  For information, please call 905-876-1244 ext. 238
Plug and Play Package: $25.00
---
Programs for School Age Children:
Young Engineers LEGO Build (Bricks Challenge and Galileo)

Age: 4-12 Years
Details: Saturdays 9:00-10:15 AM
Starting Date: July 9th (4-week program) & August 6th (4-week program)
Cost: $104
Young Engineers will learn the principles of science, technology, engineering and mathematics (STEM). By integrating basic arithmetic learned in school with an intuitive active learning process, children grasp a better understanding of the fundamentals of physics and engineering concepts while building with motorized LEGO models.
Young Engineers LEGO Build & Coding (Robo Bricks)

Age: 6-12 Years
Details: Saturdays 10:30-11:45 AM
Starting Date: July 9th (4-week program) & August 6th (4-week program)
Cost: $104
Using LEGO and Lego WeDo graphic programming to build robots. Robo Bricks enrichment program participants learn software engineering, technology, entrepreneurship and math (STEM). During each lesson students will assemble a robot that will perform a predetermined task. Constructing these robots will develop each student's ability to create computer algorithms and capability to implement code.