At MCRC we are taking every reasonable precaution to protect our children, families, staff, students, and volunteers' health and safety as the COVID-19 pandemic continues to unfold. During this uncertain time, it is challenging to predict what will happen in the next few months, specifically, its impact on our planned fundraising events for the year.
Please see our revised event listings below.
Thank you for your continued support!
Stay safe and healthy!
Upcoming Events:
Currently, most of MCRC's fundraising events are focused on raising money for our new focus area, Empowerment Programs.
MCRC's new Empowerment Programs will streamline efforts to support girls and women who are impoverished, vulnerable or at risk. These programs are free, accessible, and designed to level the playing field and ensure all citizens have fair and equitable access to services and supports that will boost their trajectory of success.
December 1, 2021 - January 7, 2021
The Fill A Crib campaign in support of the Infant Food Bank. Help us reach our goal by filling cribs with donations of essential infant supplies that go to local families in need.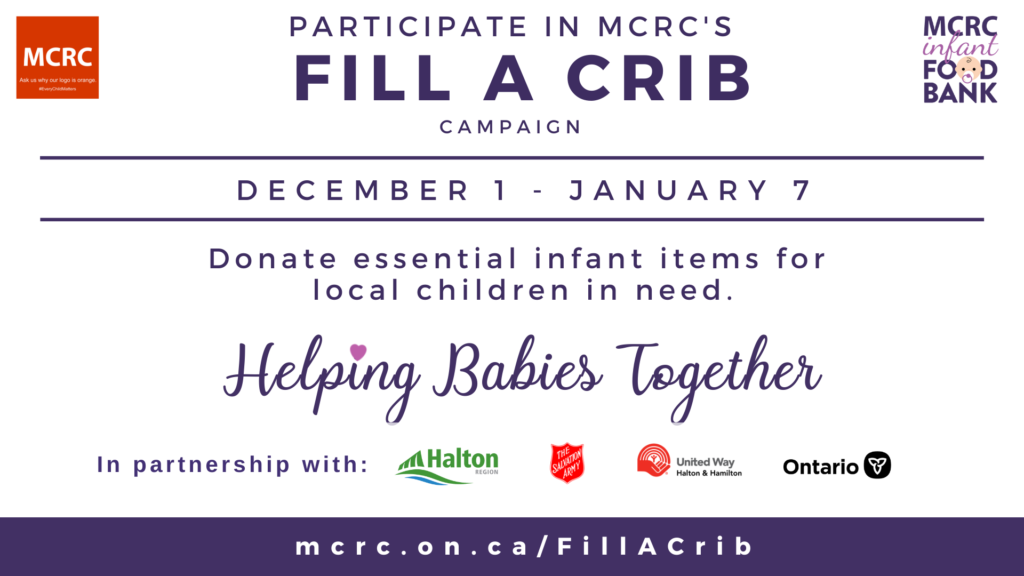 MCRC'S ANNUAL MARKETPLACE
Saturday, November 13, 2021
Join us for MCRC's 7th Annual Marketplace on November 13, 2021! Get an early start on your holiday wish list and shop safely from over 20 local vendors in support of MCRC's Empowerment Programs!
ALL 4 HER 5K
June 26, 2021
MCRC's All 4 Her Virtual 5k is a family-friendly fundraiser that the whole community can participate in, while staying apart. In this virtual race, you choose your own adventure - You choose whether you run, walk, roll or stroll and you choose what time and where! Our only requirements are that you complete your race on Saturday, June 26th between 7am and 7pm.
YOUTH DANCES
Milton's best youth video dance parties! For youth in grades 5-8. MCRC Youth Video Dances feature a Party Rockers DJ, games, prizes, a photobooth and a snack bar.
FAMILY FUN FAIR
June 22, 2019
MCRC's annual Family Fun Fair is held in June in Victoria Park, Milton.
BOWLING FUNDRAISER
October 27, 2019
Join us for MCRC's Bowling Fundraiser! An afternoon of family-friendly fun, food and competition!
Unfortunately, MCRC's 2019 Bowling Fundraiser has been cancelled.