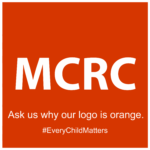 MCRC sits on the traditional territory of the Haudenosaunee, Huron and Wendat, and more recently Treaty Lands of the Mississaugas of the Credit First Nation.
On May 27, 2021, the remains of 215 children were confirmed near the Kamloops Residential School in British Columbia. Since then, there have been over 900 more bodies confirmed near other residential schools in Canada. The hardships and struggles that have been imposed on the Indigenous peoples of Canada have been felt for generations, and will continue to be resonated as healing and grieving continues.
MCRC believes that all children are sacred and we hold strong the value of families, neighbours, and communities working together to ensure children are safe and thrive to their full potential. Orange is a significant colour that is used in recognition of the harm that the residential school system did to children's self-esteem and well-being.
Our logo is shown in orange as an affirmation of our commitment to raise awareness of the injustices toward the Indigenous community, to learning the truth, and to always working to ensure that every child matters. MCRC began using an orange logo on May 31, 2021 and will continue to do so for 215 days, returning to our original logo on January 1, 2022.
Resources
Click the images below to learn more.