Online Marketplace Shopper Support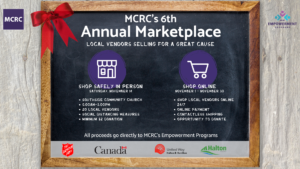 Thank you for visiting MCRC's Online Marketplace! MCRC's Marketplace is in support of our Empowerment Programs. In our Marketplace, you can browse a wide variety of unique, custom and handmade objects from local vendors, crafters and artisans. Some products will ship directly to you and some are available for pick up only - please read the product description carefully for full details. Add items to your cart and purchase from multiple vendors at once! You can leave a tip at checkout to make a donation directly to MCRC's Empowerment Programs.
Have questions? Find our FAQ below!
Do shoppers have to make an account to shop?
No. Shoppers do not require an account to browse the shop or purchase items.
Do shoppers need a Paypal account to shop?
No. When you are checking out, you will be redirected to PayPal. The payment will be processed through PayPal, but you can checkout as a guest if you do not want to create an account. If you do not have a PayPal account, click the button to pay by credit/debit card.
How do I support MCRC's Empowerment Programs?
Great question!
You can make a donation to MCRC's Empowerment Programs while you are checking out by using the option to "leave a tip".  All tips will go directly towards supporting our Empowerment Programs.
If you want to support Empowerment Programs without making a purchase from the Online Marketplace, please visit mcrc.on.ca/marketplace-donations
Can I buy from more than one vendor at once?
Yes! Add items from multiple vendors to your cart and checkout all at once.
What is this tip option in the checkout, where does it go, the vendors or MCRC?
The tip option acts as a donation that goes directly to MCRC, in support of our Empowerment programs.
I decided not to buy anything but I still want to donate…
There is a donate now button the home page header of our Marketplace website which will redirect you a donation page. You can also find this page by clicking the following link: mcrc.on.ca/marketplace-donations
Are the vendors from the city of Milton only?
Most of our vendors are from the Halton region, however we do have a few vendors from cities across Southern Ontario.
I want to know more about an item before purchasing, is there a way I can contact the vendor?
Yes, absolutely. When you're on the product page, click the shop's name underneath the price. It will bring you to the seller's profile page, where you will find a contact information, likely an email address to reach out to.
I placed an order. How do I know it went through? What happens next?
Thanks for your support with our Marketplace! You will receive an auto generated email from MCRC Marketplace/Shopify confirming the order has been placed and that your payment has been captured. You will then receive an email from the vendor to arrange shipping or local pick-up/drop-off details. All orders will be fulfilled (and make their way to you) by the vendor, outside of our Marketplace platform. If you do not hear from your vendor within a few days, please reach out to our admin: madelynb@mcrc.on.ca